Date Night in Orlando (2023 Guide)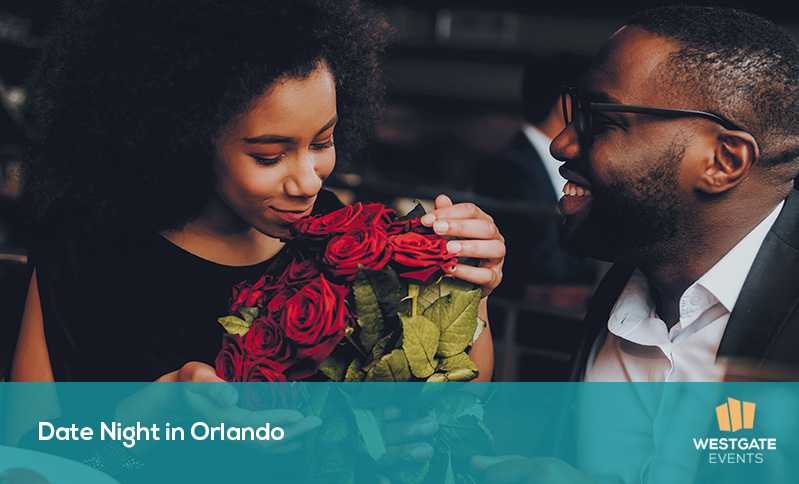 Date Night in Orlando
The most romantic day of the year is approaching. If you are traveling to Central Florida for a romantic getaway with your sweetheart this year, we have compelled a list of date ideas to add to your itinerary. The Orlando dating scene is definitely an exciting one, as the city offers an array of unique dining experiences and themed bars. Date night in Orlando may look different for everyone, but with so much to do, we're sure you will find the perfect date spot for you and your significant other.
A Unique Dining Experience Orlando's Best Kept Secret
There's nothing like a unique dining experience in Orlando to celebrate the most romantic time of the year with your special someone. With Westgate Events, you can enjoy a fun Valentine's Dinner in Orlando with a party and on-site restaurants at the Westgate Town Center Resort. We also included other great restaurant options in the Orlando area to our list for you to further explore Orlando during your visit.
Villa Italiano Chophouse
Transport yourself to Italy as you step inside the Villa Italiano Chophouse. You and your partner can experience an authentic Italian dinner featuring fresh ingredients and house-made family recipes. This restaurant is inside the beautiful Westgate Town Center Resort in Kissimmee, FL. After a romantic dinner, end your fun date with a swan paddle boat rental or a game of mini golf.
Better Than Sex – A Dessert Restaurant
We know that dessert is an integral part of every date night. At Better Than Sex Orlando, your sweet treat becomes the main event. Enjoy award-winning desserts, signature drinks, and a wide selection of beer and wine in a speakeasy-style setting and celebrate a special moment with your special someone. This restaurant is the perfect date night idea to begin or end the night.
The Boathouse
Whether you are coming for your first date or celebrating a special moment with your significant other, we recommend visiting The Boathouse restaurant. Located at Disney Springs on Walt Disney World, this waterfront restaurant offers delicious seafood meals, including fresh fish options, oysters, and drinks to go along with your romantic dinner. Then, finish your special day with the Captain's Guided Tour of Disney Springs in a vintage Amphicar.
Wine Bar George
Wine Bars George is one of the most romantic things to do in Disney Springs. The restaurant & bar serves over 140 wines, all available by the glass, bottle, or ounce. Even if you are not a wine enthusiast, you can still enjoy other fun cocktails, a full menu of small plates, charcuterie boards, and sweets. You can even plan for a brunch date on Saturdays and Sundays!
The Melting Pot
Another unique dining experience that we recommend is the Melting Pot Orlando. This fondue restaurant offers a romantic yet fun ambiance that will set it apart from the rest. Enjoy one of their four-course dinners for two, which includes your choice of cheese fondue, salad, entree, and of course, chocolate fondue.
Best Themed Bars in Orlando
Are you looking for the best bars for date night in Orlando? We've got you covered! The bar scene in Central Florida ranges from upscale wine bars to casual lounges. In Orlando, you will find great themed bars for date night.
ICEBAR Orlando
Step into a winter wonderland and get ready for a night to remember. ICEBAR Orlando, located on International Drive, is the perfect backdrop for your romantic evening. Stay cozy with the thermal coats & gloves provided and sip a delicious cocktail in their custom-carved ice glasses. Just don't forget to snap a few pictures of your date night in Orlando with their complimentary photography.
Player 1 Video Game Bar
Where video games and craft beers meet. Enjoy classic arcade games and a large variety of consoles from every era for your date night. At Player 1 Orlando, we promise you won't go thirsty. Their impressive drink menu offers over 36 beers on tap, 150 international and local beer bottles, 40 ciders, 15 meads, and a selection of sake. Since this unique bar is close to the Orlando theme parks, it can be the perfect way to end your romantic day.
Aku Aku Tiki Bar
Are you looking for a place to sit back and relax with your special someone? Then, Aku Aku Tiki Bar is just the place! Your tropical paradise awaits at the Las Vegas Stardust Lounge tribute, where you can enjoy a retro, cozy atmosphere and classic drinks in tiki cups at this themed bar. Aku Aku Tiki Bar is located on Lake Eola Park, making this a great spot to visit after taking a swan boat for a spin.
Cocktails & Screams
Visit the unique Halloween-themed bar in Downtown Orlando. Celebrate Halloween year-round at Cocktails and Screams Orlando, where you can enjoy spooky cocktails & draft beer, live music, special events, and horror memorabilia. Don't forget to check out their hidden speakeasy, The Craft, inside the bar. You are in for a witchy time!
Jock Lindsey's Hangar Bar
If you are an adventure seeker, we recommend checking out Jock Lindsey's Hangar Bar in Disney Springs. The vintage airplane ambiance inspired by the exploits of Indiana Jones' pilot offers unique cocktails, like Fountain of Youth, Cool-headed Monkey. and Bedtime Story. You can also enjoy a selection of draft beer, wines, non-alcoholic drinks, flatbreads, and other appetizers.
Best Orlando Picnic Destinations
Grab your picnic basket and explore the best picnic spots in Orlando, Florida. With so many beautiful parks and outdoor spaces, you may be planning a picnic day with your sweetheart.
Kraft Azalea Park
The beautiful 13-acre botanical garden in Winter Park is a prime location for a picnic date. Relax under the shaded grass under the huge cypress trees and take in the surrounding nature with your significant other. Kraft Azalea Garden is a hidden gem is known as Winter Park's secret garden.
Bok Tower Gardens
Located about an hour outside of Orlando, Bok Tower Gardens is a peaceful garden and bird sanctuary that is loved by many. Inside the lush garden, you will find the Signing Tower, 126 species of birds, and nature trails. Bok Tower Gardens is the perfect setting for your dreamy date and even has a designated area with picnic-style tables and benches for you to enjoy!
Mead Botanical Garden
Lay out your blanket and pull out your picnic basket at the stunning Mead Botanical Garden in Winter Park. The 47-acre urban oasis welcomes guests daily to enjoy nature hikes and find tranquility surrounded by tall pine trees, greenery, ponds, and a butterfly garden.
Lake Eola Park
Where is Lake Eola? This beautiful park is in the heart of Downtown Orlando and offers something for every mood! From swan paddle boat rentals and restaurants to stunning views of Orlando's skyline, they really have it all! Lake Eola is the perfect backdrop to your romantic picnic with your better half.
Kissimmee Lakefront Park
If you are looking to have a waterfront view for your picnic date, we recommend visiting Kissimmee Lakefront Park. At this picturesque park, you will find open spaces, picnic tables, BBQ grills, and concessions to facilitate your picnic date.
Conclusion
The dating scene in Orlando is an exciting one that brings couples to experience unique restaurants, themed bars, and scenic surroundings to enjoy each other's company outside. If you are looking for a last-minute Valentine getaway, we recommend checking out our Valentine's Dinner in Orlando event package, which will perfectly complement your date night in Orlando!