The Best Rides at Dollywood | Your Insider Guide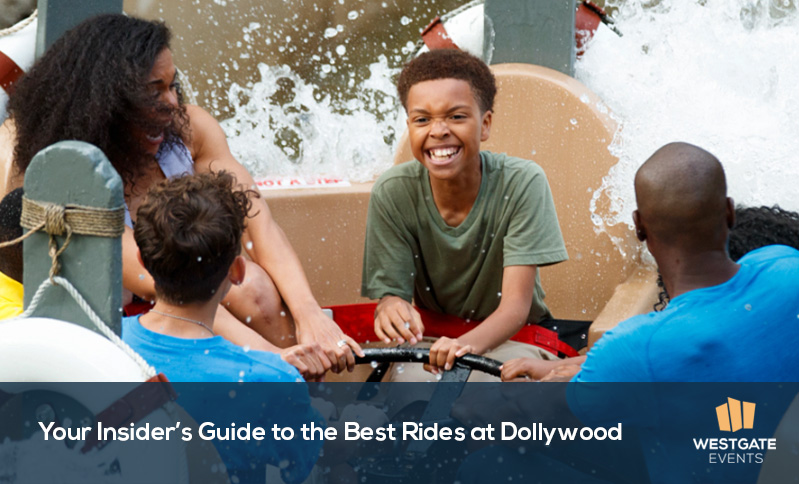 The Best Rides at Dollywood | Your Insider's Guide
With more than 50 world-class rides, live entertainment, and annual festivals, Dollywood Theme Park is definitely a top attraction to visit in Pigeon Forge, TN. With their reopening on March 11, 2023, and the 50th-anniversary celebration of the top hit by Dolly Parton, I Will Always Love You, Dollywood is ready to kick off the season with a bang. With so much to do and see, we have created the ultimate guide to tell you about the best rides at Dollywood and help you plan ahead for your fun-filled day. Whether you enjoy thrill rides like FireChaser Express or kid-friendly rides like Busy Bees, your Day at Dollywood will not be short of exciting!
Thrill Rides
At Dollywood, you will find plenty of rides that will have you screaming at the top of your lungs…
Lightning Rod
Visit one of the best rides at Dollywood that USA Today has consistently named one of the country's top 10 best roller coasters! Located in the Jukebox Junction area, Lightning Rod is a fan-favorite ride that takes you from zero to 45 mph to more than 20 stories up. The first of many drops on this thrilling roller coaster takes you up to 73 mph! The unique hybrid structure combining a wood stack and steel track and its impressive speed make this roller coaster a must-see.
Height Requirement:
Min: 48 inches
Max: No Max
Daredevil Falls at Dollywood
The thrill seekers in you will love Daredevil Falls. This popular water ride is a boat expedition that takes you on a journey through the rushing river, where you are surrounded by nature and find your way to the left-behind lumber machinery. Then, when you think you can finally catch your break, the boat will soar down a 60-foot waterfall drop at 50 mph!
Height Requirement:
Min: 42 inches
Max: No Max
River Rampage Dollywood
Get ready to get soaked! Navigate the choppy waters of the Great Smoky Mountains as you experience white water rafting at the Smoky Mountain River Rampage attraction. This bumpy water ride features dips, twists, and turns that will have your heart pounding with excitement. Of course, no rafting trip is the same, but you will always leave with your clothes soaked, so make sure to bring a change of clothes!
Height Requirement:
Min: 36 inches
Max: No Max
Flying Eagle at Dollywood
Wild Eagle roller coaster will have you flying like an eagle! The thrilling attraction is America's first wing coaster, which means you will not have a track under you – only air. Soar through 21 stories in the air while taking loops, turns, twists, and plunges that will have your adrenaline pumping through your body.
Height Requirement:
Min: 50 inches
Max: 78 inches
FireChaser Express
Celebrate the heroic spirit of the brave firefighters that tackle the fires and preserve the beautiful Great Smoky Mountains. If you can handle the heat, take on the family coaster, FireChaser Express. The nation's first dual-launch family coaster launches from the fire station and takes you through an adventure full of twists and turns until you enter the warehouse full of fireworks and gasoline – not a good sight! As the building starts to catch fire, you make a kick escape and shoot out backward to finish your fire rescue!
Height Requirement:
Min: 39 inches
Max: No Max
Tennessee Tornado
Brace yourself for the mighty Tennessee Tornado! With an impressive 128-foot drop, the triple spiral-looping coaster makes you feel like you are going through a powerful funnel cloud. The popular attraction for thrill-seekers speeds up to about 70 mph and goes through upside-down loops and twists that will have your adrenaline rushing.
Height Requirement:
Min: 48 inches
Max: No Max
Blazing Fury
Blazing Fury is a classic attraction loved by many. The indoor roller coaster tells the story of a raging fire that is minutes away from sweeping over an 1800s town. The ride starts by going through the town, as residents, including firefighters, gunslingers, and damsels in distress, rush to escape the burning town. Feel your blood pumping as you escape the town while experiencing drops and turns while you outrun the fire.
Barnstormer
Imagine you are a passenger in a plane with daring stunt pilots! Enjoy the same views and thrills that stunt pilots of the 1920s experienced when flying over fields in Tennessee. The Barnstormer swings the pendulum arms until reaching 45 mph and, at its peak, reaches 81 feet in the air. Children can enjoy the barnyard-themed park area with a bi-plane and water play area.
Height Requirement:
Min: 48 inches
Max: No Max
Dollywood Kids Rides
If you are traveling with younger kids or just looking to enjoy a milder ride, Dollywood still has plenty to offer!
Busy Bees
Find out what the buzz is all about! Busy Bees is the perfect ride for kids of all ages. Jump in a bumble bee car and join the excitement as you fly around in the air. Located in the Country Fair area of the park, you'll be surrounded by the best attractions for young kids.
Height Requirement:
Min: No Min
Max: No Max
Carousel Ride
You can't forget to ride the classic Village Carousel ride during your visit. Whether you are coming with small children or just looking to enjoy a nostalgic moment, we recommend checking out Dollywood's carousel ride. Be sure to check out the leading horse with a flowing blonde mane, referred to as Dolly.
Height Requirement:
Min: No Min
Max: No Max
Rockin Roadway
Do you enjoy riding classic cars like Corvettes, Thunderbirds, or Cadillacs? Take the wheel and cruise through the scenic route of a country road in the 1950s. Enjoy the sun rays and cool breeze as you jam out to rock and roll music, all while you drive through town. Rockin' Roadway is a great attraction for families of all ages, including small children.
Height Requirement:
Min: No Min
Max: No Max
Dollywood Express
When you're ready to take a break or enjoy the beautiful nature views, we recommend catching the Dollywood Express. Ride the authentic coal-fired steam train in a 20-minute ride through the foothills of the Great Smoky Mountains. Take in the picturesque views of the lush mountains and the Dollywood theme park. You'll feel like you stepped into a time machine when traveling in and out of the mountains was done by train.
Height Requirement:
Min: No Min
Max: No Max
A Day at Dollywood
Enjoy a day at Gatlinburg and experience the best rides at Dollywood with Westgate Events! Our A Day at Dollywood event package includes a 3-night stay at the beautiful Westgate Smoky Mountain Resort & Water Park, a $50 dining certificate, two Dollywood tickets, and a late check out on the final day to make the most out of your getaway. In addition, enjoy a VIP check-in and personal concierge services to enhance your vacation experience in Gatlinburg, TN. All from $199 per couple!
Frequently Asked Questions
Which rides at Dollywood go upside down?
The Wild Eagle, Mystery Mine, and Tennessee Tornado all go upside down.
Which ride has the highest thrill rating at Dollywood?
The Lightning Rod roller coaster has the highest thrill rating in Dollywood.
Which ride should I ride first?
If this is your first time visiting Dollywood, we recommend riding Lightning Rod first. As this is one of the most popular rides at the amusement park, so we recommend riding this one early to beat the long line.
What is a TimeSaver pass?
A TimeSaver or TimeSaver Unlimited pass allows you to maximize your day with expedited access to select rides! You can also enjoy priority seating for shows at participating theaters. Prices for 2023 passes have yet to be out, but when available, you can check the TimeSaver pass here.
When does Big Bear Mountain open?
Big Bear Mountain debuts in Spring 2023 and will be part of Wildwood Grove's expansion. The family-friendly attraction will be the longest coaster at Dollywood, nearly lasting two minutes, and will have onboard audio and music from Ned Oakley.