Why Book an Event Getaway with Westgate Events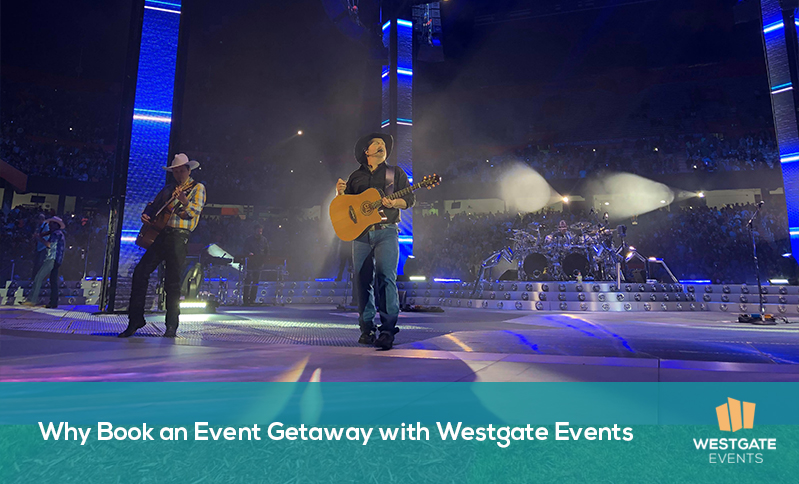 Where live entertainment meets an elevated vacation experience!
Aside from offering luxurious resort destinations across the United States, Westgate Events provides event packages with true VIP treatment. Whether you are looking to enjoy a special event featuring an exciting concert, a sporting event like NASCAR or a must-see NFL game, a comedy event that has your belly full of laughs, or other unique experiences, Westgate Events has got you covered. With vacation packages in popular destinations like Orlando, FL, Branson, MO, Gatlinburg, TN, Las Vegas, NV, Myrtle Beach, SC, and Williamsburg, VA, we can get you to the middle of the action for a getaway that you won't forget! The best part? We take care of all the details for you so you can focus on what really matters – having the time of your life.
So, what exactly is Westgate Events?
Westgate Events is a division of Westgate Resorts, offering to you an event of your choice plus comfortable, luxury accommodations. Most event packages include a 3-night resort stay, but some may include 2 or 4 nights. However, you can customize packages by adding extra nights or tickets. Additional tickets vary per event.
Personal Concierge
We do the hard work for you! Expect the royalty treatment, even before your arrival. Your Personal Concierge will contact you to ensure you are ready to go and all your questions have been answered. When you arrive at the resort, your Concierge will make sure that you have a smooth arrival. At check-in, you will receive an event itinerary with your Concierge's phone number so you may reach them at any moment! They will be your go-to person for questions, assistance getting attraction tickets, or even directions. Don't be afraid to ask questions! They are familiar with our Westgate Resorts destinations and local attractions!
Enjoy Luxury Accommodations
After checking in, walk into your home away from home. Enjoy all the comforts of home during your stay at Westgate Resorts. Our spacious luxury guestrooms include comfortable, warm beds, private bathrooms, and access to extensive resort amenities – very different from your typical hotel room. Most rooms feature a kitchenette where you can prepare meals during your stay and a private bedroom with a separate living room, giving you all the privacy you need. If you have a furry companion, feel free to bring them along, as all Westgate Resorts properties are pet-friendly and accept service animals.
The amenities vary by resort property, but at our resorts, you will have swimming pools, hot tubs, miniature golf, food service options, volleyball courts, shuffleboards, and other fun activities! At the Westgate Town Center Resort, Westgate Vacation Villas Resort, Westgate Lakes Resort & Spa, and the Westgate Smoky Mountain Resort, you will find our family-friendly onsite water parks.
We understand that you want to enjoy your Westgate getaway to the fullest! That's why our Westgate Events packages offer a late check-out so you can make the most out of your stay, whether you want to sleep in or wake up early to enjoy the resort before you go.
Welcome Party
Get ready for a night to remember! Most of our event packages include an exclusive Welcome Party to get the party started. These include a warm dinner, open bar, fun music, and of course, dancing! To kick off the night, you will meet up with your host, which is also your Concierge, and get seated with fellow guests and Westgate Owners. Our experienced, entertaining DJ will make sure that you get off your feet and on the dance floor! With DJ Dennis, you will have the time of your life, with fun music, prizes to bring back home, and lots of dancing. So, don't be shy and show us your best moves!
Hassle-Free Transportation
Didn't bring or rent a car for your getaway? No problem! Most of the Westgate events include transportation to and from the event. Start the party by riding with us in a large shuttle that departs from the resorts and takes you safely to the event venue. We'll make sure you get there in time and avoid the parking headaches in large venues. After the event, we'll drive you back to the resort! During the ride, you can chat with other guests, listen to music, or even take a quick nap (we won't judge)!
Have Fun at the Event
The moment has finally arrived – the main event! Enjoy your favorite musicians, performers, comedians, and sports teams with exclusive seating at some of the best arenas and venues across the nation. Some of our events include extras to add to the VIP treatment. Our NFL events include a tailgate party with food, beer, wine, and soda, and some venues include seating in the loft area, which includes complimentary food and drinks.
Now that you know the different benefits of booking a Westgate Event, we are ready to help you book your Westgate getaway. What will it be? A memorable upcoming concert with your favorite artist, an exciting sports event to get your heart racing, an epic weekend getaway, or maybe a special event at one of the best theme parks in the U.S.? The options are endless! Check out our latest events for Orlando, Las Vegas, Gatlinburg, Branson, Myrtle Beach, or Williamsburg.