Adults Only Days at Disney World: A Cool Idea That's Just a Dream
Adult Only Days at Disney World: A Cool Idea That's Just a Dream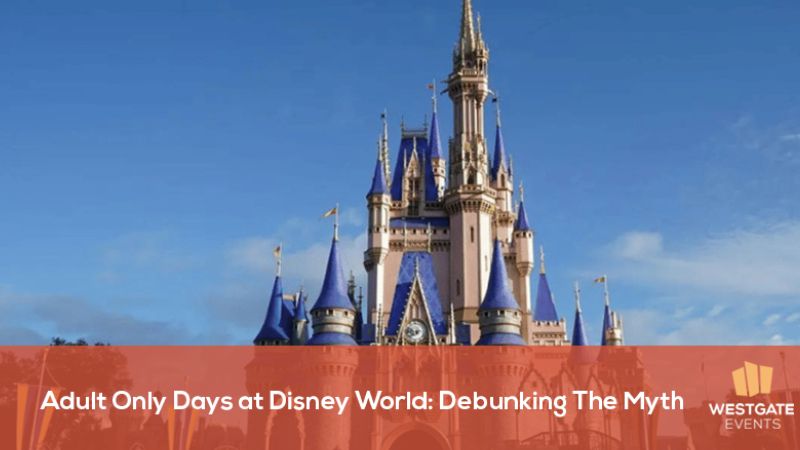 Recently, news of "Adults Only Days at Disney World" has been circulating on social media and websites. However, it's essential to clarify that this information is indeed fake news, originated from a satire website for Disney. While the idea of Adult Only Days at Disney sounds fantastic, unfortunately, Disney has not announced any plans to implement such an event. But Disney World is a dream destination for adults too. From the enchanting experiences tailored specifically for grown-ups to the delectable dining options that will make your taste buds sing. We'll also share tips on making the most of your visit as an adult, including the best times to go and ideal accommodations. Get ready to indulge in the magic of Disney like never before!
The Imaginary Experience of Adult Only Days at Disney World
In this enchanting vision, Adults Only Days at Disney World promise a once-in-a-lifetime experience tailored exclusively for grown-ups. Picture a serene atmosphere, free from stroller collisions and kiddie distractions, where adults can immerse themselves fully in the wonder of Disney.
Debunking the Rumor: Adult Only Days at Disney World
The rumor of exclusive Adult Only Days at Disney World is just that – a rumor. While Disney World offers adult-oriented experiences and activities, it remains a family-friendly destination that welcomes guests of all ages. The park's main focus is on creating a magical experience for everyone, including families with children.
Why Disney World isn't just for Kids?
Although there are no exclusive days for adults only, visitors seeking a more adult-focused experience can explore options such as Epcot's Food and Wine Festival or attend special events like Disney After Hours. These events provide opportunities for adults to enjoy the park in a different way, with offerings like live music, delicious food and drinks, and unique experiences. So, while Disney World may not have dedicated AdultsOnly Days, there are still plenty of ways for adults to have a great time at the happiest place on earth.
The Magic of Disney World for Adults
Disney World is more than just a destination for families and kids. It offers a magical experience that adults can fully enjoy. From fine dining experiences to spa treatments and exclusive shopping options, Disney World caters to the needs and desires of adult visitors. The park's nightlife is equally impressive, with themed bars, live music, and dance parties to keep the fun going after dark. But it's not just about the amenities; the attractions themselves are designed with adults in mind. The immersive storytelling and attention to detail make every ride and show a captivating experience for adults. And let's not forget the nostalgic charm that appeals to our inner child. Disney World truly has something enchanting for everyone, regardless of age.
Making the Most of Your Disney World Visit as an Adult
When visiting Disney World as an adult, you have the opportunity to fully immerse yourself in the magic and create unforgettable memories. One of the advantages of adulthood is being able to enjoy the thrill rides and attractions without the crowds of families with small children. Take advantage of adult-only dining options and special events that cater to your interests. Explore the unique experiences and entertainment offerings for adults, such as wine tastings and live shows. With the extra time and flexibility, you can truly make the most of your Disney World visit. So, whether it's experiencing the excitement of a roller coaster, indulging in the best restaurant offerings, or enjoying the evening hours of the parks, there are plenty of ways for adults to have a great time at Disney World.
Best Times to Visit for Adults
When planning your visit to Walt Disney World, choosing the right time can make a big difference in your adult-only experience. Avoiding peak times like school holidays and weekends will give you a more relaxed atmosphere to enjoy. To enhance your visit, consider attending special events like Epcot's Food and Wine Festival or the Magic Kingdom's After-Hours events. These events offer unique experiences and an opportunity to indulge in delicious food and drinks. Make the most of your time by utilizing Disney Genie to minimize wait times and maximize your enjoyment of attractions. Disney's Mobile Ordering feature is another convenient option for dining, allowing you to save time waiting in line. And don't forget to explore the vibrant nightlife options at Disney Springs, offering live entertainment and unforgettable dining experiences.
A Weekend In Orlando For Adults
When it comes to ideal accommodations for adult visitors at Walt Disney World, there are several options that can enhance your experience. At Westgate Events, we offer our "A Weekend In Orlando" event.
Experience the ultimate retreat during your stay at the luxurious Westgate Lakes Resort & Spa. Picture yourself unwinding in a spacious, inviting one-bedroom suite, perfectly situated just a stone's throw away from the thrilling SeaWorld. But that's just the beginning of what awaits you!
We want to pamper you with exclusive perks that will make your stay even more unforgettable. Indulge in a delightful $50 dining credit to savor delectable dishes at the renowned Drafts restaurant, where culinary delights await your taste buds. And as if that wasn't enough, we're offering you a generous $100 resort credit to truly immerse yourself in all the wonders this exceptional property has to offer.
You'll be astounded by the array of world-class amenities at your disposal. Dive into pure bliss with not one, not two, but seven heated outdoor pools and hot tubs, perfect for relaxing under the sun or stars. Feeling adventurous? Engage in some friendly competition with an 18-hole miniature golf session, or set sail on a serene journey across the resort's spectacular spring-fed lake with kayaks and paddle boats.
And let's not forget the icing on the cake – the new Sunset Key Island Retreat. Picture yourself sipping on a refreshing cocktail, cocooned in a hammock, all while being mesmerized by the breathtaking views surrounding you. It's the kind of experience dreams are made of.
With Westgate Lakes, you get the best of both worlds: all the comforts of home, blended seamlessly with the opulence of a premium resort. Embrace a getaway that caters to your every desire, and creates memories that will last a lifetime. Come, let us make your stay a symphony of relaxation and adventure! Book Now Today!
What are some must-do adult-friendly attractions at Disney World?
Discover the must-do adult-friendly attractions at Disney World! Immerse yourself in the international cuisine and cultural experiences of Epcot's World Showcase. Get your adrenaline pumping on thrill rides like Tower of Terror and Rock 'n' Roller Coaster at Disney's Hollywood Studios. Experience unique adventures at Animal Kingdom's Kilimanjaro Safaris and Pandora – The World of Avatar. And don't miss classic attractions like Haunted Mansion and Pirates of the Caribbean at Magic Kingdom.
Unmissable Shows and Experiences
The Festival of the Lion King is a must-see Broadway-style show filled with energy and stunning visuals that will captivate audiences of all ages.
At Epcot's World Showcase, you can immerse yourself in the cultures of 11 different countries, sample international cuisine, and enjoy live performances that showcase the diversity of the world.
Star Wars: Galaxy's Edge takes you to a galaxy far, far away with its themed attractions, immersive dining experiences, and encounters with beloved characters.
And when the sun sets, don't miss the Happily Ever After Fireworks at Magic Kingdom, where classic Disney songs set the stage for a jaw-dropping display.
For shopping, dining, and live entertainment, head to Disney Springs, a vibrant outdoor complex that offers something for everyone. With so many unmissable shows and experiences, your visit to Disney World will be truly magical.
What are the best hotels for an adult Disney trip?
Westgate Lakes Resort & Spa is an amazing hotel for an adult Disney trip.
Conclusion: Adult Only Days At Disney World
In conclusion, you can have a great time even though the "adult only days at Disney World" turned out to be fake. Hopefully down the line there will be adult only days at Disney World, because it seemed like a good idea.  But for now they're still tons of ways Disney caters to adults.  Adults have the options of thrilling rides, exquisite dining experiences, or enchanting shows.  So, don't let the misconception of Disney being only for kids hold you back from booking your Disney vacation with Westgate Events.
Check Out Our Other Fun Blogs!
Unique Things To Do In Orlando Other Than Disney
Date Night In Orlando 2023 Guide
Have The Best Spring Break At Treasure Cove Water Park
Romantic Things To Do In Gatlinburg TN For Adults
The Best Rides at Dollywood | Your Insider Guide
Usher In Las Vegas an Epic Night by Westgate Events
The Epic Drake & 21 Savage Concert: What To Expect
The Ultimate Guide To Las Vegas Concerts & Shows