Have The Best Spring Break at Treasure Cove Water Park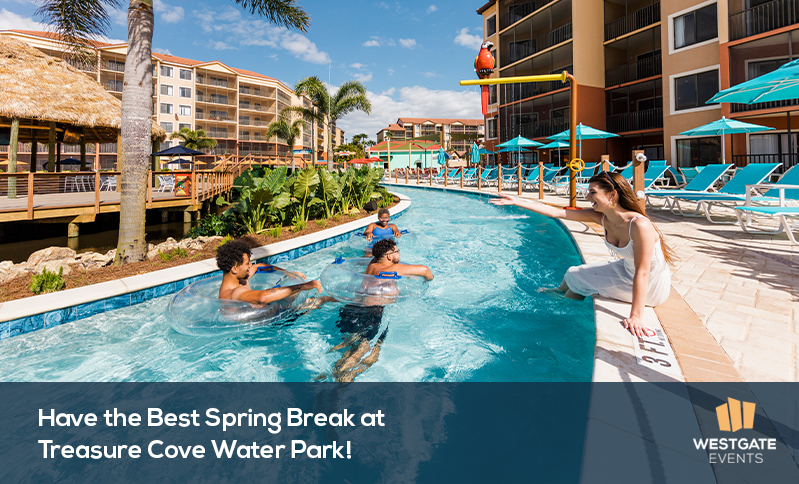 Get Ready For The Best Spring Break Ever at Treasure Cove Water Park by WGE
Spring break is an exciting time for couples and families of all ages! With so many fun activities, deciding where to go can be challenging. Westgate Events is here to help!<//p>
What Makes Treasure Cove Water Park The Perfect Destination For A Spring Break Getaway
Treasure Cove Water Park had partnered with Westgate Events to design the best spring break event of the season. The exciting event includes a $50 dining certificate, a $100 Visa Gift Card, a DJ, prizes, thrilling rides and slides, and a 3-night stay at Westgate Lakes Resort & Spa. The Spring Break Getaway Event in Orlando is a day full of fun in the sun that everyone will love!
How to Prepare for Your Spring Break Trip To Treasure Cove Water Park
Are you ready to make the most of your spring break and a trip to Treasure Cove Water Park? Planning your vacation can be stressful, but with Westgate Events, you'll be ready for all your amazing adventures. From the perfect packing list to the best attractions, we have everything you need to make your vacation unforgettable. So let's get started and prepare for an incredible spring break at Treasure Cove Water Park!
• Pack Your Essentials – Identification, Chargers, Medical Insurance, Swimwear, Sunscreen, Waterproof Phone Pouch, Flip Flops, Water Shoes, Clothes.
• Plan An Itinerary – The event gives you two free days in Orlando to sightsee. Make sure you plan for things to do in Orlando.
• Spring Break Playlist: Gather Your Favorite Songs! Treasure Cove Water Park Has A DJ onsite.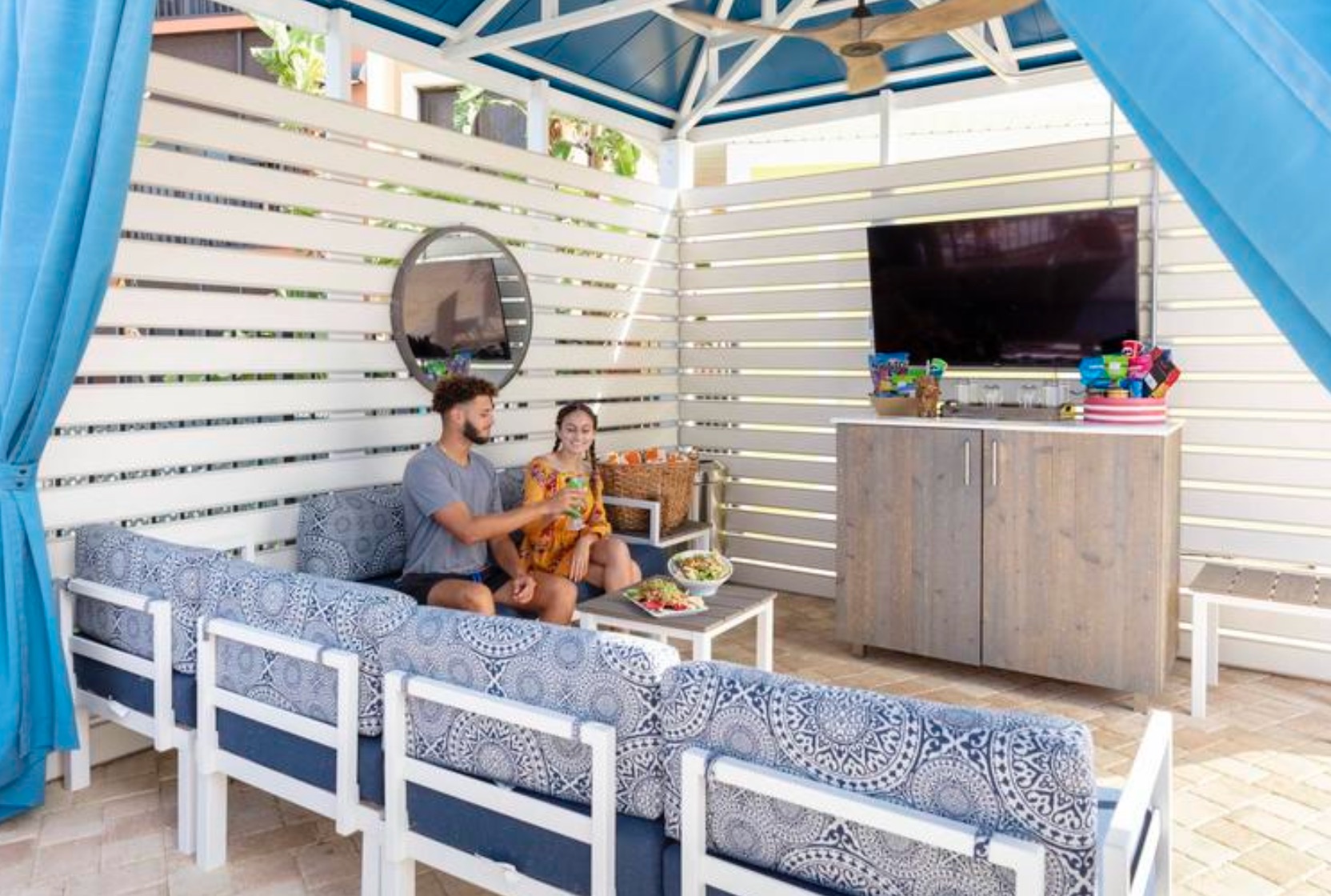 Exciting Activities You Can Do During Your Spring Break at Treasure Cove Water Park
At Treasure Cove Water Park, you'll find plenty of exciting activities to help you make the most of your spring break.
Twisty water slides– As you make your way down the slides, you'll be surrounded by waves of cool water splashing against your body and a feeling of thrilling adventure.
Drop Slide– Experience an exhilarating drop as you slide down the drop water slide at Treasure Cove Water Park.
Wave Pool– This wave pool offers a one-of-a-kind experience with its thrilling waves splashing against the sides of the pool.
Cabana Rentals – You can rent their cabanas for an elevated spring break experience. The cabanas are suitable for the entire day and are reserved in advance only at the water park's admissions desk. All cabanas come with the following amenities: a fan, TV, refrigerator, personal server for food and beverages, towels, a lawn chair, and a sofa.
DJ– The park also has an onsite DJ playing all your favorite hits throughout the day, so you can enjoy a day of dancing and fun under the sun.
Lazy River– This 575-foot-long river takes you on a relaxing and scenic tour of Treasure Cove Water Park and features gentle rapids and a few surprises. Get ready for an unforgettable ride that will keep you cool all summer!
Splash Zone– The splash pad provides plenty of ways to cool off and have fun, with different water activities to keep children occupied.
Hot Tub– Enjoy a peaceful soak in the hot tub while watching your children have fun at one of the water park's many attractions. It doesn't get much better than that!
Enjoy Delicious Cuisine & Treats While Visiting Treasure Cove Water Park
The Buccaneer Galley Snack Bar is the perfect place to satisfy your appetite. Enjoy classic favorites like pizza, tacos, burgers, salads, sandwiches, nachos, and wraps. Cool off with ice cream or shaved ice while savoring every bit of your fun-filled day at Treasure Cove Water Park.
Caribbean Specialty Food Options
Treasure Cove Water Park's entire theme is based on a Caribbean-style atmosphere, and its cuisine inspires the restaurant's menus. With an array of Caribbean-style dishes, including jerk chicken and seafood options, you'll find something that will tantalize your taste buds.
Enjoy Drinks at Rikki Tiki Tavern Bar
This bar offers an array of unique cocktails inspired by the Caribbean, such as a Mai Tai and a Margarita. Additionally, they have a selection of cold draft beer and wine that will quench your thirst. Rikki Tiki Tavern is located in Treasure Cove Water Park so that you can relax with a drink during or after your day at the park!
Additional Restaurants on Westgate Lakes Resort & Spa
While enjoying the water park, you can access the entire resort. While staying at Westgate Lakes Resort & Spa, visitors can enjoy its many amenities and restaurants. The resort has a few exceptional dining options on its property including Draft's Sports Bar & Grill and Cordovano Joe's Pizza. Both offer unique dining experiences that please anyone looking for delicious food and drinks.
Draft's Sports Bar & Grill
Draft's Sports Bar and Grill is the place to be for your favorite steaks, salmon, fried chicken, burgers, wings, ribs, and brisket platters. They serve a delicious selection of appetizers to start your meal. Please stop by for an unforgettable dining experience with friends and family or enjoy our relaxed atmosphere while catching the big game on one of their big-screen TVs. Their friendly staff is here to ensure you get the best service possible!
Cordovano Joe's Pizza
Cordovano Joe's Pizza is a unique experience that brings authentic New York-style pizza to life. Their specialty pizzas are made with the freshest ingredients, including imported Italian San Marzano tomatoes and locally sourced toppings. They bake all their pizzas in a 600-degree stone hearth oven for added flavor and texture. We also hear amazing things about their cheesy breadsticks, garlic knots, salads, and desserts. While on the resort, remember to stop by Cordovano Joe's Pizza!
Conclusion: Spring Break Getaway In Orlando
Couples and families will get the most bang for their buck with our event. Enjoy the convenience and luxury of a weekend in Orlando with a stay at Westgate Lake Resort & Spa. The "A Weekend in Orlando" event offers everything from a $50 dining certificate to a $100 Visa Gift Card and late checkout. So what are you waiting for? Book your Spring Break in Orlando now and make unforgettable memories!
---
Check Out Our Other Fun Blogs!
Date Night In Orlando 2023 Guide
Have The Best Spring Break At Treasure Cove Water Park
Adults Only Days at Disney World: A Cool Idea Thats Just a Dream
Unique Things To Do In Orlando Other Than Disney
Romantic Things To Do In Gatlinburg TN For Adults
The Best Rides at Dollywood | Your Insider Guide
Usher In Las Vegas an Epic Night by Westgate Events
The Epic Drake & 21 Savage Concert: What To Expect
The Ultimate Guide To Las Vegas Concerts & Shows