The Ultimate Guide to Las Vegas Concerts and Shows – Where to Go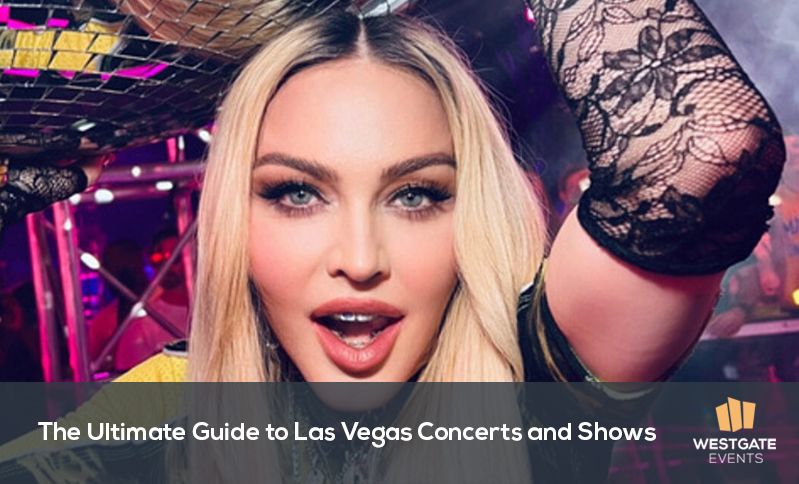 All You Need To Know About Las Vegas Concerts & Shows – Westgate Events
Las Vegas is one of the most popular cities for entertainment, and it's no surprise that its concert
and the show scene is booming. But with so many venues, how do you know where to go for the best experience? Westgate Events is here to help with our ultimate guide to Las
Vegas concerts and shows. We'll tell you where to go for the best comedy and Las Vegas concerts.
What is So Special About Las Vegas Concerts & Shows?
Las Vegas is known for its vibrant nightlife and unique entertainment. But what makes it so
special? Well, one of the things that makes a Las Vegas concert or show exceptional is the
ambiance. From the bright lights to the stunning stage designs, there's something magical about
attending a concert or show in Las Vegas.
Where To Go For The Best Las Vegas Concert Experience
For an even more memorable experience, check out our fantastic concert event packages.
With these packages, you can enjoy VIP access to some of the best shows in town and exclusive access to behind-the-scenes tours and meet-and-greets with your favorite performers!
So if you're looking for an unforgettable experience, look no further than a Las Vegas concert or
show!
Shows You Can't-Miss in Vegas
Beyonce

– Whether you're a die-hard fan or want to experience her performance's energy, this show will surely be an unforgettable experience. From her iconic hits to her new music, it's a must-see for anyone visiting Vegas. So don't miss out on the chance to see

Queen Bey in Vegas!
  

Drake

– If you're in Vegas, you can't miss

Drake and 21 Savage's Her Loss Tour!

This tour brings together two of the biggest names in music for an unforgettable show. The show features some of their biggest hits and some new material. With a mix of hip-hop, trap, and R&B, this is a must-see show for any fan of these two artists. So don't miss this fantastic opportunity to see Drake and 21 Savage perform live in Vegas!
Read More: The Epic Drake & 21 Savage Las Vegas Concert – What to Expect
Ed Sheeran

– Ed Sheeran's songs have become an integral part of our lives, from weddings to parties, no occasion does not feature at least one of his songs. Ed Sheeran is coming to Vegas, bringing his signature sound with him. Whether you're a fan of his

music or want to experience a great show, this is an event you won't want to miss. So please get your tickets now and join us for an unforgettable night of music with Ed Sheeran in Vegas.
Los Spirits Distillery Show

– Las Vegas is home to some of the finest spirits distilleries in the world. If you're looking for an unforgettable experience, then head to the

Los Spirits Distillery Show!

Here, you can sample a variety of spirits from some of the best distilleries in town and learn about their production processes. With all this knowledge and delicious beverages at your disposal, it's sure to be an unforgettable night!

P!nk

– Are you ready to experience the most electrifying concert of the year?

P!nk is coming to Las Vegas

for a one-of-a-kind show! Prepare for an unforgettable night filled with fantastic music, high energy, and lots of fun. Take advantage of this incredible opportunity to see one of the world's most beloved pop stars live in action. Get your tickets now and be a part of this fantastic event!
Usher

– Are you ready to experience the best concert of your life? Then come on down to Las Vegas and join us for

Usher's "My Way" concert!

From the iconic hits to the mesmerizing stage effects, this will be one night you won't forget. So don't miss out, get your tickets, and enjoy a welcome party now!
Read More: Usher In Vegas Concert
Madonna

–

Madonna has been a mainstay in Las Vegas

for decades. From her iconic performances at the MGM Grand to her residency at the Mandalay Bay, she has entertained audiences with her unique and captivating style of music and dance. With every performance, she brings new energy and excitement to the Strip. Whether it's a show-stopping performance or an intimate acoustic set, Madonna always delivers an unforgettable experience for her fans.
How Long Do Las Vegas Concerts Last?
A concert in Las Vegas usually lasts about 2 hours with a 15-minute intermission.
Westgate Las Vegas Resort & Casino
Westgate Las Vegas Resort & Casino is the perfect family-friendly resort in the heart of Vegas. All Las Vegas concert packages include a stay at this incredible resort, and it's close to all the attractions and activities that make a Las Vegas trip so exciting. Plus, with delicious food, spacious rooms, and entertainment for everyone, you'll always be energized! So come down to Westgate Las Vegas Resort & Casino and experience all Las Vegas has to offer!
On-Site Restaurants at Westgate Las Vegas Resort & Casino.
If you're looking for a fantastic dining experience while visiting Westgate Las Vegas Resort & Casino, you'll be delighted by the variety of on-site restaurants.
Benihana
Westgate Las Vegas Resort & Casino offers a unique hibachi dining experience with Benihana. This popular restaurant offers teppanyaki grills and engaging showmanship that will make your meal unforgettable. Enjoy succulent seafood, sizzling steaks, and fried rice cooked to perfection right in front of you. With Benihana's unique atmosphere, you'll surely have a night to remember!
Edge Steakhouse
Westgate Las Vegas Resort & Casino is the place for steak lovers! Edge Steakhouse, one of the on-site restaurants, provides an unforgettable dining experience with its delectable steaks and other dishes. From perfectly cooked filet mignon to succulent ribeye steaks, you'll find something to satisfy your appetite at Edge Steakhouse. The atmosphere is perfect for a romantic dinner or a night out with friends. So come down to Westgate Las Vegas Resort & Casino and enjoy a delicious meal at Edge Steakhouse!
Fortuna
Here you can get your caffeine fix with Starbucks coffee and indulge in freshly made sandwiches, salads, and pastries. Everything is made with fresh ingredients, and it's the perfect place to take a break from the casino floor. So come on down to Fortuna and enjoy a bite or two!
Fresco Italiano
Experience the best Italian fine dining at Fresco Italiano, an on-site Westgate Las Vegas Resort & Casino restaurant. From handcrafted pasta dishes to succulent seafood entrees, you can savor authentic Italian flavors in a luxurious setting. Their chefs create each word with fresh, local ingredients and traditional recipes for a truly unforgettable culinary experience. So come and enjoy an exquisite meal at Fresco Italiano while you're in Vegas!
Buffet
Westgate Las Vegas Resort & Casino is the perfect place to experience a whole new level of dining. They offer an elevated buffet selection that will make you feel like royalty. With fresh and delicious food prepared daily, you can enjoy a variety of dishes from around the world in one convenient location. Indulge in the flavors and aromas of their on-site restaurants, offering something for everyone!
Rikki Tikki Sushi
Are you craving some delicious sushi? Then you must visit the Rikki Tikki sushi on-site restaurant at Westgate Las Vegas Resort & Casino! This restaurant is known for its excellent sushi rolls, made with the freshest ingredients. Whether you're looking for a quick bite or an elaborate dinner, Rikki Tikki Sushi has something to satisfy your cravings. Experience the unique flavors and textures of traditional Japanese cuisine. See why Rikki Tikki Sushi is one of the best places to get delicious sushi!
Silk Road Asian Bistro
Step into the exotic world of Silk Road Asian Bistro at Westgate Las Vegas Resort & Casino. This on-site restaurant serves various delicious Asian dishes, from classic pho and ramen to unique fusion dishes.
---
Check Out Our Other Fun Blogs!
Date Night In Orlando 2023 Guide
Have The Best Spring Break At Treasure Cove Water Park
Adults Only Days at Disney World: A Cool Idea Thats Just a Dream
Unique Things To Do In Orlando Other Than Disney
Romantic Things To Do In Gatlinburg TN For Adults
The Best Rides at Dollywood | Your Insider Guide
Usher In Las Vegas an Epic Night by Westgate Events
The Epic Drake & 21 Savage Concert: What To Expect
The Ultimate Guide To Las Vegas Concerts & Shows